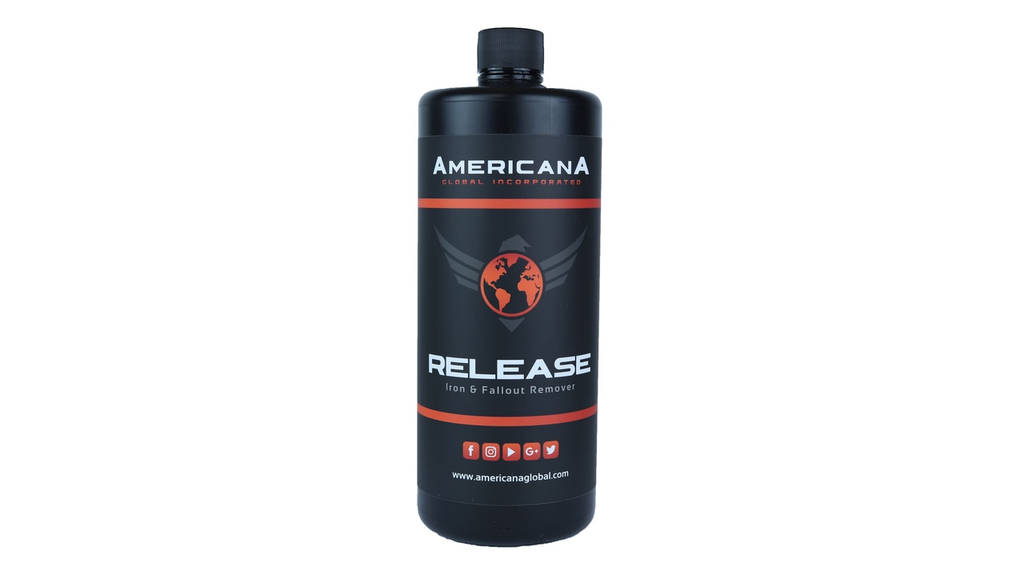 Americana Global
Americana Global - Release
Iron and Fallout Remover
AmericanA Release is a professional grade environmental decontamination product. Specifically engineered to dissolve embedded contaminants from the exterior surfaces of your vehicle.
Who Can Use It?
Great for use at home during routine wash practices.

Decontamination to prep for Paint Correction and Ceramic Coating Installation.
Surface Contamination
Iron, Industrial fallout, carbon, and other metallic substances are naturally occuring in the environment and on the roads. These elements are stirred into the air and land on your vehicle. After sitting on your car they become embedded into the pores of your Paint, Glass, Wheels, Plastic, and Rubber surfaces. Release was engineered to chemically dissolve and bleed away these corrosive agents.
​

Release

is safe on your paint and clear coated surfaces
​Iron and industrial fallout are corrosive and can even permanently wear away the Clear coat, Plastics, Wheels, Glass, and Rubber. If left untreated, surface failure could occur.
Excessive Brake dust build up on your wheels over time is corrosive. The wheels are subjected to extreme temperatures and once brake dust is baked onto the surface it can cause irreversible damage.
​Ferrous and other airborne chemicals aren't easily removed by traditional wash methods. After sitting on the surface they become embedded. Now requiring chemical or abrasive removal. Once applied Release initiates a chemical reaction that opens up the pores as contaminants dissolve and are flushed away.
You can see Release go to work. As the surfactants activate the color changing formula turns purple forcing iron and other metallic substances to bleed away.
---
More from this collection